Hawthorn Class WB 27th September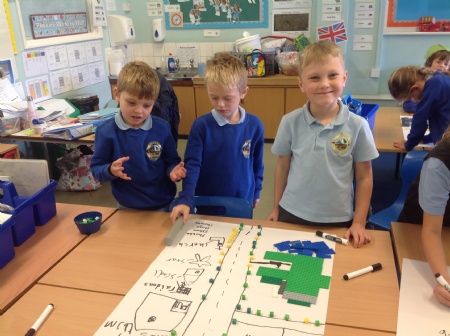 It's been another busy week in Hawthorn class. We started our new English topic which is all about Little Red Riding Hood. So far, we've discussed what everyone knew already about the story, then explored some different versions. The children came up with actions to help them remember the book we're using in class, and then mapped out Little Red's journey through the woods.
In maths, Year 1s have been ordering objects and numbers, while Year 2s have continued their focus on partitioning numbers to 100 in different ways.
We had a real topic focus on Monday. In the morning, the children worked in groups to create maps of Ashton. First, they drew some of the roads and landmarks; then they used classroom resources to show houses, other buildings and areas such as the playing fields and meadow. We were SO proud of their maps – they did an amazing job!
In the afternoon, we followed the route we'd planned earlier and had a look around the area closest to school. The children took photos of the landmarks identified on their maps and we even managed to fit in a quick play in the meadow before the rain started. All the children behaved beautifully and it was a very successful learning experience. We joined up with Holly class for this activity so you might like to look at our joint blog which was posted earlier in the week. Holly-and-Hawthorn-village-walk
On Thursday it was "Wear Red" day. The children wanted to have a fashion show to display their lovely outfits. We all strutted our stuff on the catwalk!
In Science we have carried on with our investigation into the lost teddy. The children have been fantastic and have written up our work, just like proper scientists!
Finally in Music we are learning a new song – especially for harvest – there will be a special performance next week!