Holly Class - A visit from Beegu!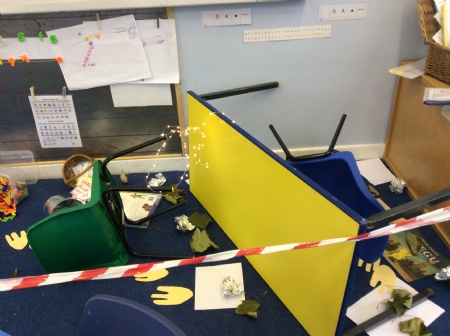 What an exciting week we have had in Holly Class! On Tuesday morning we arrived at school to find an awful lot of mess in the classroom. We immediately became detectives to try and solve the mystery and work out who had left it all. We studied the evidence very carefully and created drawings and lists of everything we could see. The children spotted many things that had been knocked over, there were bits of silver metal, some lights (that we think were from a space ship), leaves, a book and some very unusual yellow footprints. The book gave us the biggest clue as there was a strange looking alien on the front which happened to be yellow like the footprints. The book was called Beegu and we worked out that it might be the alien's name. We wrote some messages, drew some pictures and left some spaceships that we had made from Lego overnight to let the alien know we were friendly.
On Wednesday morning the excitement continued as there was a letter from Beegu saying that she was lost and asking if we could help by telling her about where she had crash landed. We combined our English and Geography skills to help Beegu out. All of the children created some lovely drawings of their favourite places in the village and the Year 1 children added labels to theirs. We have also started to build a mini model Ashton Under Hill so that we can show Beegu where all of these places are.
During circle time we talked about how Beegu might feel to land somewhere where she is lost and how we could make her feel welcome and cared for. The children came up with some lovely suggestions and we talked about how we could do these things for our own friends when they feel sad or worried too. The children in Holly class really are wonderful friends to have!
In Maths this week we have been doing lots of counting. Reception children have been working on counting out loud, saying their numbers correctly and in the right order whilst Year 1 have been working on representing numbers in different ways. You will see in the pictures that we found all sorts of things around our classroom that we can use to represent numbers.
Somehow, we have also managed to squeeze in phonics lessons, a pen disco (ask your children to show you this at home!), some playdough making and some parachute games with Acorn class.
Have a lovely weekend everyone, and if you are out and about in the village do keep an eye out for a friendly yellow alien!