Recycling at Ashton
Thanks to the Cotton family, our school is now a Terracycle drop off point for clean, empty crisp packets to be recycled.

Karen Cotton has also a collection point at her house too if the school is closed (it's a blue wheely bin at Little Grange, Beckford). It would be really useful if waste could be separated into the waste streams, particularly that which might smell or leak (such as baby food pouches and wet animal food).
Crisp Packets Can Now be Recycled for the First Time
The Crisp Packet Recycling Scheme is a TerraCycle recycling programme sponsored by Walkers.
Now for the 1st time crisp packets can be recycled in the UK.
Up until now there has been no way to recycle them so they have ended up in landfill or incineration.
The Schools Involvement in the Crisp Packet Recycling Scheme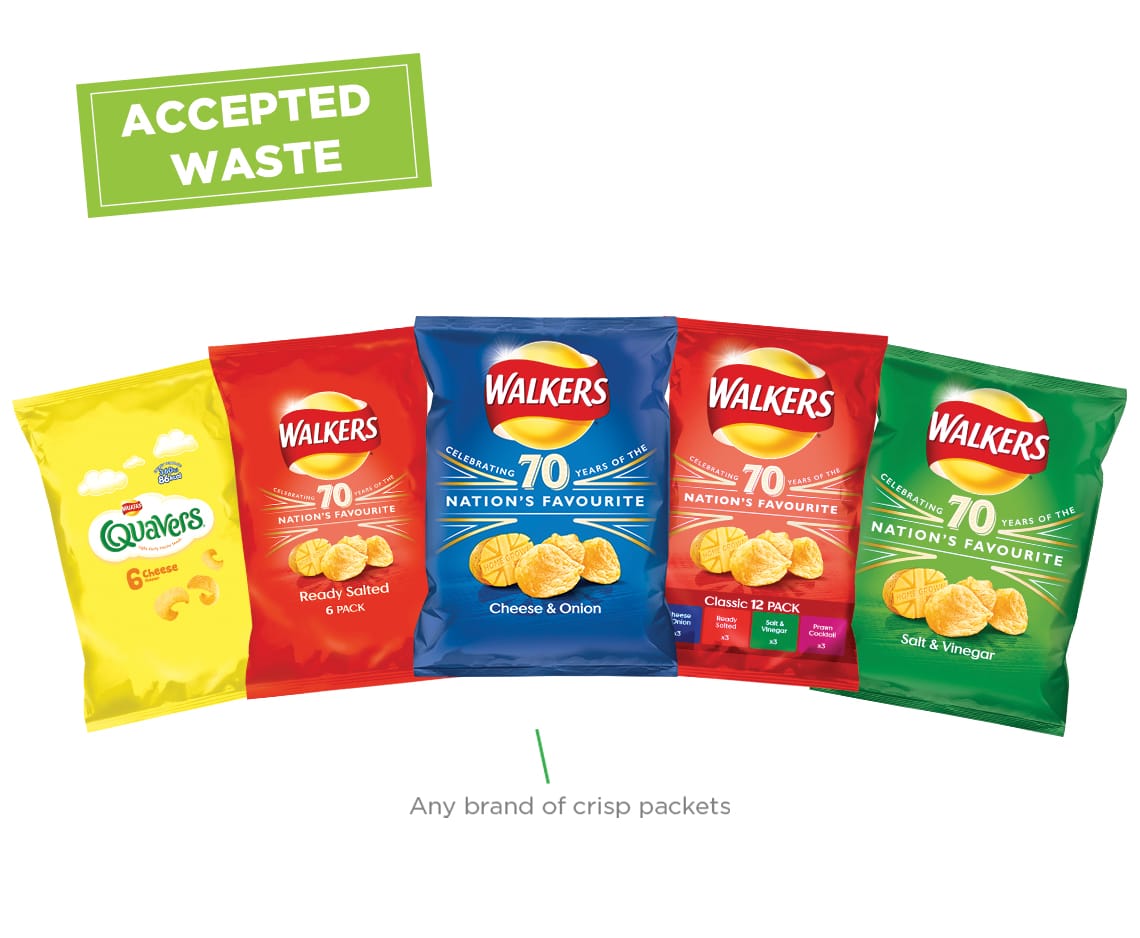 The school is one of TerraCycle's 1st public access collection points for crisp packets in the UK
All brands of individual packs and the outer multipacks are accepted
Simply drop them back to the school between 8:45 am and 3 pm in term time (or in the blue wheely bin at Little Grange in Beckford at other times)
The school earns charity points by recycling crisp packets
For shipments of over 2kg of crisp packets we receive TerraCycle points

200 TerraCycle points per kg – each point worth £0.01
So 2kg of crisp packets earns the school 400 points (£4)
We donate the funds to FX's Fund which provides support for children in intensive care and their families (currently saving for cuddle cots)
We also act as a drop off location for TerraCycle's writing instruments, biscuit and snacks, oral care, personal care, air care, baby food pouches and pet food programmes and to
date have raised over £1,350 via our recycling efforts ​saving over 63 000 items from landfill (since 2012).
Why are crisp packets hard to recycle / what are they made of / what will the recycled material be used for
Pretty much anything can be recycled
Whether a material is recycled however is largely down to economics
National infrastructure in the UK is in place for materials that have value

Local council recycling systems like we have in Worcestershire accept paper, cardboard, aluminium cans, plastic bottles and some rigid plastics like food as they have value

More complex multi material products particularly flexible plastics are harder / costlier to recycle

This is why these materials aren't recycled
Crisp packets for example are made from a multi-layer, polypropylene-based film often with a metallised barrier layer
TerraCycle partners with brands – like Walkers for crisp packets – to make the economics work so that they can now be recycled in the UK
The collected crisp packets will be shredded, washed, dryed and then turned into flakes or pellets
These recycled flakes or pellets are then used by manufacturers (lessening the need to create new virgin plastics) for injection or compression molding into a variety new products like park benches, fence posts etc
For the complete list that can be recycled and for more information please visit Terracycle UK
Here are other things that you can recycle at our school. Please just drop them off!
Click on the picture to enlarge.