Test Newsletter
Headlines By Mrs Sharon Cole
I would like to thank all parents
for your support this term. We had almost 100% attendance at Parents' Meetings this week.  We also appreciate all the feedback that we have received via the questionnaires.  It has been such a posit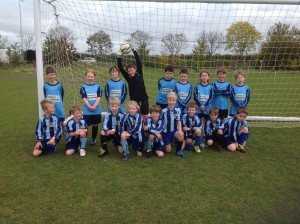 ive start to the new academic year and I hope that you enjoy some precious family time next week.
Football Tournament
Yesterday Mrs Thornton took two teams to Evesham United Football Club to participate in an inter-school competition involving our nine "Cluster" schools which all feed into Bredon Hill Middle School.  The children played brilliantly and were a credit to the school, showing a superb attitude. Both teams came third!  We were extremely grateful to Mr Sidney and Mrs Pye for all their support.
Envirominies produce Anti-littering video for Wychavon District Council:
We are very proud of the children who attend Eco Club for making a fantastic video persuading people not to litter because of the terrible effect on the environment.  We are also extremely grateful to Mr Simpson and Mrs Hiskens for their expertise and agreeing to be part of the filming.  Mrs Shiels had heard about the competition and was so inspired by the children's suggestions, that she took on the challenge to make the video, with some IT support from Miss Hughes.  Please follow the link below to view their wonderful efforts:

https://www.youtube.com/watch?v=-q1z_re6G3I
Notices:
Operation Christmas Child: The children were given a special assembly this week about the good work of the Samaritan's Purse shoe box appeal.  If you are happy to fill a shoe box over the half term holidays, please collect a decorated shoe box from the foyer.  In Acorn class the children will also be collecting items to fill boxes in their 'Shoebox Factory' and we would be very grateful for any donations of spare items which they could use.  Please return filled shoe boxes by Fri 13th November.
Parent Questionnaire: Thank you for all the responses returned. Although today was the closing date for the paper copies, there is no cut-off date for registering your views on-line. So, if  you have not had chance to do so and would like to register your views, please go to the school on the Ofsted website:  parentview.ofsted.gov.uk
Friday 6th November: Non uniform 'Wear Something Spotty' Pudsey Bear fundraising:   Suggested donation of £1 for Children in Need.  Please remember to bring all your loose change into school so we can fill a playground shape of Pudsey with coins and pennies.
Coming home today:
Multi Academy Trust letter Raffle tickets now on sale for Apres ski party. £1 per ticket – really fabulous prizes!!  Sally Guibert, Danielle Ayres, Shelley Morgan and Becki Quilter selling tickets.  Please buy raffle tickets and show your support, even if you are unable to attend on the evening. Thank you.
Dates for the Diary
Monday 2nd November 2015: Back to school after half term
Friday 6th November: 'Non uniform Wear' something spotty day £1 for Pudsey
Wednesday 11th November: Remembrance Service, 10.20am in the school hall followed by two minutes silence at the Memorial. Everyone welcome.
 Saturday 21st November 8pm:
PFA Fundraiser Apres Ski party
Monday 30th November: TED Day – School closed to pupils
Wednesday 9th December: Key Stage 1 Winchcombe Railway trip (details to follow later)
& 
Ashton Village Celebration of Christmas
at St Barbara's church in the evening
Tuesday 15th December: An afternoon & evening Christmas Carol Service including Nativity
Wednesday 16th December: Class Catering Christmas lunch, visit from Father Christmas and school party day.
Friday 18th December: Carols around the tree in Family Assembly, end of term