23 Acorn Penguin Small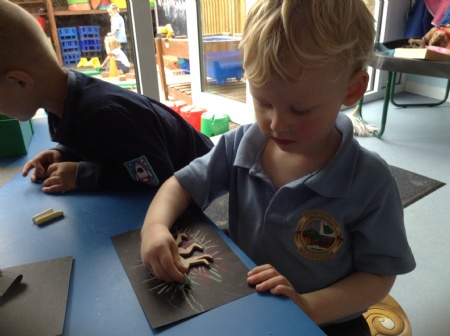 The weather turned chilly, just as we started work on Penguin Small. In the story, the intrepid penguin finds an alternative route to the South Pole, without swimming, meeting new friends along the way. We have followed this by going on our own imaginative journey to the South Pole, riding on a magic carpet and having a number of our own adventures. The children's listening has been excellent, and they have offered some wonderful ideas for our trip.
We have been practising our throwing skills, trying to aim 'snowballs' at a target and then counting and comparing the totals. We have also played a snow themed lotto game, where the children need to identify different snow related objects by shape. We have been mark making in shaving foam (sorry parents for the dirty tops that your children have come home in), and used some old foam packaging to make some snowball inspired printing blocks. Our phonics has concentrated on the different sounds made by aminals, and identifying them by their calls.