23 Hawthorn wb 22nd May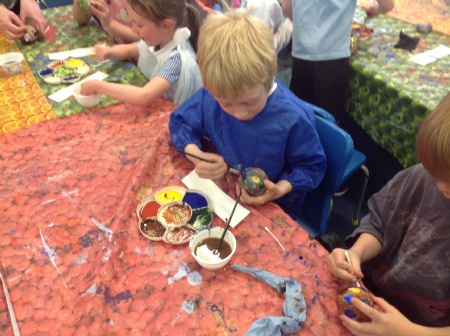 We've come to the end of an extremely busy half term and we're all looking forward to a well-deserved break. Looks like it'll be a sunny one!
In English, the children have written a short non-chronological report about castles which has reinforced what they've learnt in our Towers and Turrets topic. We're completing this topic the first week back, culminating in a very exciting away day at 'Beckford Castle' (aka the Village Hall).
The Year 1s are coming to the end of their work on fractions while the Year 2s have been finding out more about money. This week, they've explored making the same amount in different ways and also compared different amounts of money. They've also had a go at calculating with money and next, we'll turn our attention to the important skill of giving change, so if you can practise this with them during half term they'll be 'ahead of the game'.
In other subjects, they've carefully painted their dragon eggs and added a little bit of sparkle! And we've started a new programming unit in Computing. We've included a few photos of them at work, acting in role as Instructor and Robot!
We hope you all have a lovely half term break and look forward to seeing all the children again on Tuesday 6th June.