23 24 Hawthorn Wb 16th October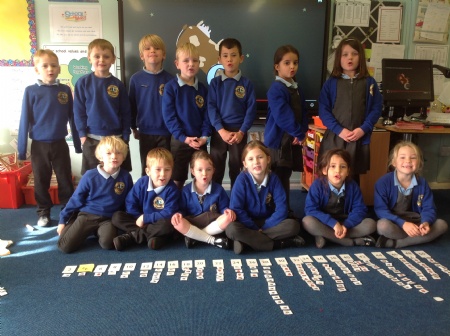 It's been another busy week in Hawthorn class with lots of fun learning.
In English, the children have enjoyed our work on different sentence types and verbs. We've got some really cool songs they can sing along to, to help them remember the terminology.
In maths, Year 1s have started to write addition number sentences while Year 2s have practised counting in 2s, 5s, 10s and 3s. Both Year Groups participated in an investigation, and you'll be able to see them at work on one of the corridor display boards when you come into school for parents' evening. There's a sneak preview below ...
We very much enjoyed our session with Skippy John on Tuesday and you can see a few photos here and some more on Mrs Thornton's new
Sports blog.
In Topic, we've been finding out about Neil Armstrong and his ground-breaking trip to become the first person to set foot on the moon. Meanwhile, in Computing, the children had a go at typing a sentence about an explorer of their choice and then illustrated it using some of the tools on paintz.app. We also thought about how to use technology safely and responsibly.
In Science, we have been looking at animals bodies, comparing different animals and finding out about the more unusual things that some animals have such as horns, tusks and gills.
Finally, after a postponement last Friday due to the poor weather forecast, it was our classes turn to go to forest school. We had a great time...