Hawthorn wb 29th November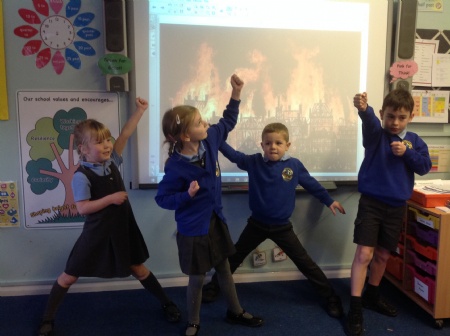 In our topic lesson this week, we found out about the equipment people used to fight the Great Fire and the children created their own mimes and freeze-frames. Can you work out which groups are using fire hooks, leather buckets, water squirts and a very primitive 'fire engine' based around a barrel of water? We thought about whether more could have been done to tackle the blaze and discovered who had a role to play in dealing with it - including Samuel Pepys, King Charles II and his brother, the Duke of York. We also discussed who was to blame for not saving more houses, and learned that there isn't always a clear-cut answer to such questions.
In maths this week there has been a lot of calculating going on. The Year 1s were looking at subtraction and the Year 2s at some tricky addition. We used a range of resources to help us. The photos show how well the children work and support each other.
On Tuesday we were really lucky because as it was St Andrew's Day, Mr Forno came in with his bagpipes and treated us to "Flower of Scotland" and then "Scotland the Brave". The children were fascinated by the musical instrument and how loud it was! A big thank you to Mr Forno.
The children became gymnasts this week and showed how they could prepare for a move, perform the move and finish it correctly too. We saw star jumps, twist jumps and tuck jumps and the children really were excellent gymnasts.
In addition to all this the children have carried on rehearsing for our Nativity next week. Although we are disappointed not to perform it live, the children are working really hard to make it a super production with great singing and performances.