Hawthorn wb 8th November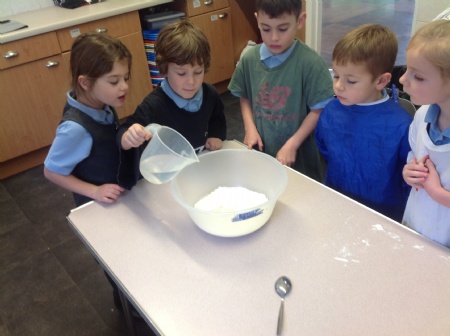 Wow, what a fantastic week we've had in Hawthorn class!
First and foremost, it was Maths Week England, and the children have enjoyed a range of different activities, including stories, puzzles and games. As you can see from the photos, they've had lots of fun while developing their skills.
Our maths-related activity on Tuesday was the highlight of the week and linked to our current topic, the Great Fire of London. We split the children into groups and made three different types of bread – using a 17th century recipe alongside modern-day recipes for white and brown bread. The children thoroughly enjoyed baking and found out a lot about measuring and the ingredients in the process. In the afternoon, they sampled and evaluated the three types of bread and then we took a vote to find out which was the favourite. And the winner was – the very tasty brown loaf!
In English, we've continued our work on, 'What happens when …'. The children came up with more fantastic ideas in response to the questions raised, and then loved discovering what the author thought. We'll be continuing our focus on writing accurate questions and answers next week.
The Year 1 children from Holly class joined us this week for the start of our new RE topic, 'How should we care for others and the world, and why does it matter?' Very topical, given our previous theme about Creation and the current focus on climate change. We began by thinking about caring for other people and The Golden Rule – treat others as you would like to be treated yourself – and the children created posters illustrating this very important message.
In Science we have been finishing our Animals and Humans topic and the children have been learning about carnivores, herbivores and omnivores. The children were given a range of animals and worked as a team to sort them into the correct groups. Super teamwork was seen across the class.
Finally, we got the instruments out in our music lesson and, after a lovely dance around the classroom to "You can call me Al" by Paul Simon as part of the "Listen and Appreciate" part of the lesson, we then used Boomwhackers and maracas to accompany our song, Hands, Feet and Heart. We had a lot of fun!