Hawthorn wb 9th May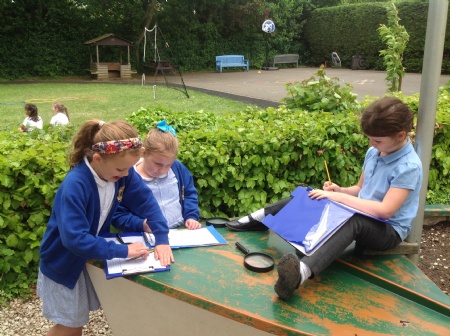 In English this week, the children wrote some lovely character descriptions about the dog they would have as their perfect pet. They then went on to compile a list of instructions about how to be a dog - they had some super creative and funny ideas!
In maths, we've continued our work across a range of topics and the children have particularly enjoyed finding out about volume and capacity. They've also been practising how to tell the time using mini clocks to help them.
Our RE topic this term is all about sacred places and on Tuesday, we joined with Holly Class to learn about Cheltenham Synagogue. We were very lucky to participate in a Zoom meeting with Mrs Jennifer Silverstone, who is the Chairwoman of the Cheltenham Hebrew Congregation which meets there. The children were beautifully behaved while Mrs Silverstone showed them some of the things they would find in the Synagogue, such as the Everlasting Light and The Ark which contains the Torah Scrolls. They also asked some very interesting questions. Our thanks go to Mrs Silverstone for kindly agreeing to meet with us.
In Topic, we explored the way families have changed over the years and then took some time to look at different household items to decide whether they were from the past or in current use. Interestingly, we found out that some favourite objects and toys from the past are still very popular today!
In Science we began out new topic on Plants. The children discussed what was the same and what was different about different types of plant and then they went out into the playground and made observational drawings of two plants. We looked closely using magnifying glasses to see the lines and hairs that were on the flowers and bushes.
Finally in PE the Year 1 children had their first swimming lesson at Evesham Leisure Centre and for some of them it was their first time swimming. The children were very excited and all tried really hard and listened well to their teachers. Well done Year 1!