Holly Class - Naughty Bus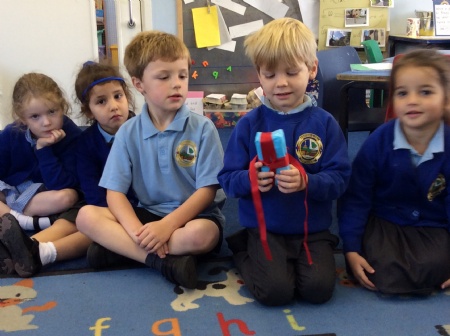 It has been another exciting week of learning in Holly Class! In our Maths lessons this week we have been working really hard on using correct mathematical vocabulary. Reception children have been working on finding many examples of 'more', 'less' and 'equal' through their play and Year 1 children have learnt how to use the signs for greater than, less than and equal to. We have found it useful to imagine these signs as crocodile mouths gobbling up the bigger number!
This week we have also seen the arrival of a small, red, London bus in our classroom. It came all packaged up like a present and we each had the chance to give it a squash and a squeeze to try and work out what it might be. All of the children made predictions and wrote down or drew what they thought might be inside and when we eventually unwrapped it it was a toy bus.
When we read the story that arrived with our wrapped up bus, we learnt that it was from London and got up to all sorts of mischief, like leaving its passengers behind and driving through beans on the dinner table. We loved the story and then couldn't believe it when we came to school on Wednesday and found that our own Naughty Bus had driven through some paint that was left out and made track marks all over the tables! On Thursday when we got to school it had filled our water tray with bubbles, we are a bit worried about what might happen over the weekend with two whole days for the bus to get up to naughtiness! We have been re-reading and re-telling the story in preparation for writing our own Naughty Bus story as well as learning about London and the other capital cities of countries in the UK. Some of the children have made their very own Buckingham Palace using wooden blocks, others have been busy in their police outfits stopping all the busy traffic on the London roads to let the bus through and others have been making their own Naughty Bus using the junk modelling materials, being sure to include seats and steering wheels. We have seen some excellent listening and team work through all of these activities, it is so lovely to see the children growing in independence and working on their joint projects together.
I hope everyone has a lovely, restful weekend in preparation for our final week together before the half term break next week.
Mrs Holdsworth