Holly Class - Nativity!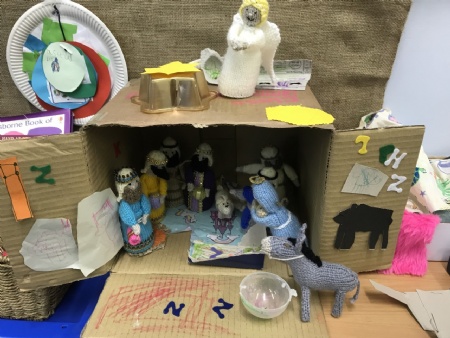 It is starting to feel festive in Holly class as we get ready for our nativity next week. We are working really hard to make it extra special, even though it won't be performed quite as we had planned. Our songs are sounding fabulous (maybe you have heard some of them at home!) and our acting skills are coming on a treat. We have been practising using a big playground voice to say our lines - even when we are rehearsing inside! We have been telling the nativity story in lots of different ways this week, even with little knitted characters. Throughout the week, the children have added to this scene which you can see in the photo, making sure Mary and Joseph had a stable to rest in, baby Jesus had a crib and there was a star to show the visitors the way!
We had a great surprise on Tuesday when we heard bagpipes coming from the playground. As it was St Andrews day, Mr Forno kindly brought his bagpipes to school to play for us. We loved learning about them and thought they were very loud! Some of the children were so inspired by his visit that they made their own out of the junk modelling materials and by lunchtime we were delighted to have our own Holly Class pipe band!!
This week the children have also been showing off lots of the things they have learnt so far this term. We have had some fabulous reading, writing, phonics and maths and it has made Mrs Holdsworth very proud to see so much problem solving and independent learning happening around the classroom. Keep it up Holly Class!
Have a lovely weekend in readiness for more festivities next week, Mrs Holdsworth