Willow - WB 12.09.2022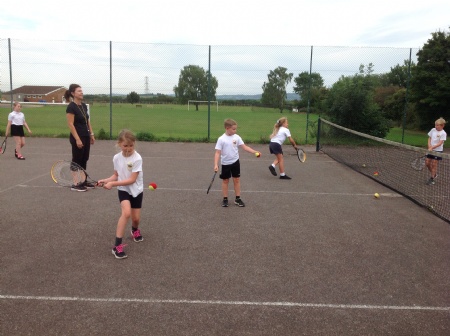 This week, the children went to the tennis courts to practise their tennis skills. They carefully balanced a ball on the racket and perfected their ball control by rolling a tennis ball around the court with the tip of their racket. The children worked together in a relay race and practised serving the ball to a partner over the net. The children are very lucky to have the opportunity to learn tennis skills with Mrs Thornton at the local tennis court.
As part of our Science topic, the children have been learning about the digestive system. This week, they learned about the function of the different organs and various parts of the body and the role they play in digestion.
This week, the children learned how to vary their sentences using fronted adverbials. We have used the story 'Cinderella of the Nile' to find out how the author used fronted adverbials effectively to create cohesion. Towards the end of the week, the children learned how to organise the story using paragraphs. Next week, we will create our own story character and setting. In maths lessons, we have been learning how to partition numbers in different ways and find 1, 10, 100 and 1000 more/less to help us with our addition and subtraction.
As part of our Topic lesson this week, we have been detectives who have been identifying clues from an image of Ancient Egypt. We looked closely to spot the images which were relevant to the time and those which did not belong in the picture. The children did a great job and we identified that the Egyptians did not build tower blocks or buildings with a domed roof, that they did not have books but instead used papyrus scrolls and that they measured crops using ropes instead of a tape measure to determine how much tax a farmer had to pay to the Pharaoh.